You Don't Need to Go Overseas. Book Your Free Consultation at The Crown Clinic Sydney.
Hair Transplantation is the recognised gold standard of permanent hair restoration and FUE delivers the most advanced method of hair transplantation.  With the volume of procedures we perform, we are able to offer FUE at a price within everyone's reach.  We boast a Surgical Team with over 10,000 hair transplant procedures worth of experience that will transform your appearance with just one visit to our Sydney clinic.
Our cutting-edge FUE procedure uses the latest innovations and the safest and most advanced techniques available to achieve the most natural looking results.
FUE Hair Transplant Sydney
Hair Transplantation is a proven and extremely successful procedure offering a permanent result.  We specialise in the FUE Technique (Follicular Unit Extraction).  This is a day procedure performed under a local anaesthetic where the "grafts" are harvested from the donor area at the back of the head one by one – no stitches required.  Each graft naturally occurs with one, two or three hairs which are then prepared and transplanted to the thinning or balding area.  The new hairs are implanted individually and at the correct angle to mimic your own hair – the final result looks completely natural and is yours for life.
Our highly skilled and experienced surgical team can perform FUE procedures for both men and women to treat:
Frontal hairline reconstruction
Crown area restoration
Inherited high hairline
Scalp or facial scarring camouflage
We perform any size of FUE Hair Transplantation, from just a few hairs, to a large session of up to 8000 hairs in just one sitting.  We recommend a few days off work immediately after the procedure.  It will be visible for 2 weeks while the scalp is healing, but you can wear a hat/cap during this time.  The new hair starts to grow in about 3 to 4 months.
The number of grafts/hairs required is determined at your free consultation.  We are happy to provide you with a price guide over the phone, but if it is difficult to come in to visit us, we can set up a phone consultation along with your photos.   Phone consultations work well for our interstate and international patients.
We pride ourselves on our customer service and surgical after care – check out some of our recent Google reviews posted!
Get the best in hair restoration without the financial stress
While there has been a growing popularity with Australians jetting off overseas to undergo cosmetic procedures with the promise of the same results at marginally reduced prices, the work performed can be hit and miss. As such, we have partnered with TLC (Total Lifestyle Credit) to offer easy payment plans from as little as $20 per week.  Ask for more information at your consultation.
Travelling Patients
We treat patients from all over Australia as well as overseas. If you are considering travelling to Sydney for your Hair Transplant procedure, here are some guidelines:
Contact our staff to organise a complimentary phone consultation, we will ask you to send photos.
During your consultation we will assess your requirements and discuss your suitability.
Once you have booked in for your procedure, you will be required to pay a deposit – your Pre and Post Operative Instructions will then be provided.
All of our Hair Transplant procedures take place at our Sydney CBD clinic, Level 14 Park House, 187 Macquarie St, this is next to Martin Place Train Station.
Procedures start around 8.30am and is usually a full day. We recommend a 2 night stay in Sydney, arriving the day prior and departing the afternoon the day after your procedure.
Hotel accommodation is available at a discounted rate at the nearby Travelodge Martin Place. If you are interested in staying here please ask about our discount code for Crown Clinic patients.
FREE Guide Download
Find out what a FUE Hair Transplant can do for you! Download your FREE guide today!
4000 hairs $5990 all inclusive
Get the most advanced hair transplant method — $5990 all-inclusive. Contact our friendly team at the Crown Clinic to book your free consultation.
At a Glance
Does FUE hair transplant leave scars?
Essentially there is no visible scarring with the FUE Technique.  As the grafts are harvested one by one, no stitches are required (unlike the the traditional strip method of hair transplantation).  The scalp heals after the procedure within two weeks. Within three to four months patients begin to notice the growth of new hair. 
Is FUE hair transplant permanent?
Hair transplant is the only hair restoration treatment to provide a permanent result. FUE is our preferred technique of hair transplantation.  Other treatments may be recommended to use in conjunction with hair transplantation, such as Hair Loss Injected Growth Factor Treatment or Medications to help retain and enhance the existing hair. As the "donor" hair targeted is not affected by the DHT hormone, hair transplantation done correctly will provide a permanent and natural looking result.
Is FUE hair transplant painful?
All of our FUE procedures are performed under a local anesthetic administered by our Hair Transplant Surgeon. Patients are awake but will not feel anything throughout.  The procedure essentially takes all day (depending on the number of grafts/hairs required).  Patients are kept comfortable with breaks during the day and are also provided with lunch.
Case Study
To see more patient results in the privacy of our clinic, book your initial consultation now.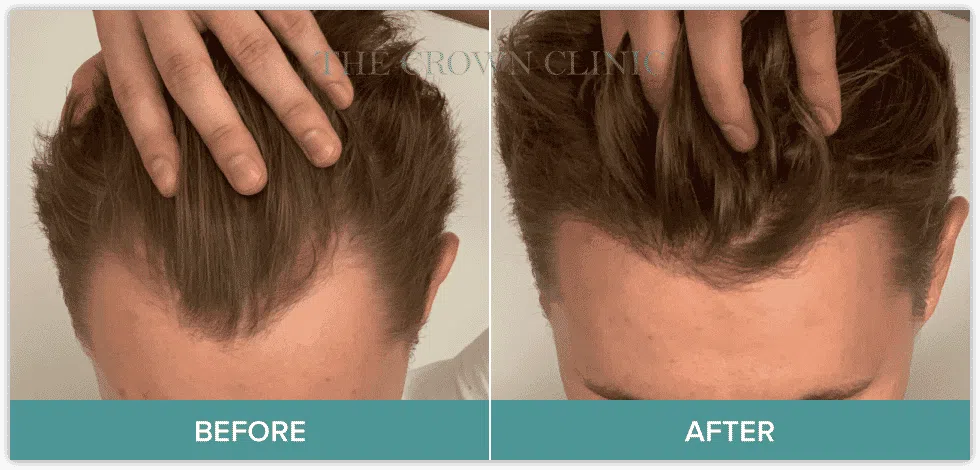 How FUE Hair Transplantation Work?
With the FUE technique we extract each follicle one by one with a simple, non-invasive and highly effective method. The hair follicles are prepared and then positioned into the area of your concern.
Recovery time is minimal and you will begin to see the results within three to four months. 
Pre-procedure instructions
For around three days prior to your procedure: do not take any anti-inflammatory medications (eg Ibuprofen), do not drink any alcohol and do not over-expose to the sun. For best healing, you should refrain from smoking for one week prior to and one week after your procedure as it may contribute to delayed healing.
Post procedure instructions
For the first couple of nights, sleep with your head elevated on several pillows or in a recliner chair to help prevent swelling. Avoid any strenuous physical activity the first week after your procedure to prevent increased swelling and loss or damage of grafts. No direct sun exposure to the scalp for more than 30 minutes at a time for the first two weeks.  Wearing a hat provides adequate protection.
Advantages of FUE
We only use the latest cutting edge FUE equipment that ensures the least invasive and most effective procedure available. We only use the smallest diameter extraction tools that keep damage to the surrounding area to an absolute minimum. You will experience the quickest procedure possible that is virtually pain free.
FUE Hair Transplant Cost
We can perform any size procedure from just a few grafts to 8000 hairs in one sitting.  Prices start from only $2,500 including GST, no hidden theatre fees or surgical costs.  Price guide for FUE:
* 1000 hairs for only $3,500
* 4000 hairs for only $5,990
* 6000 hairs $9,000
Book your FREE CONSULTATION Sydney or Campbelltown.
Free Hair Health Checks
Sydney City or Campbelltown